Search engines provide the best source of traffic for many sites and still remains the most reliable source of traffic.
WordPress is the most SEO friendly content management system that powers millions of websites. WordPress SEO plugins play an important role in helping millions of webmasters to optimize their sites and rank better in the search results.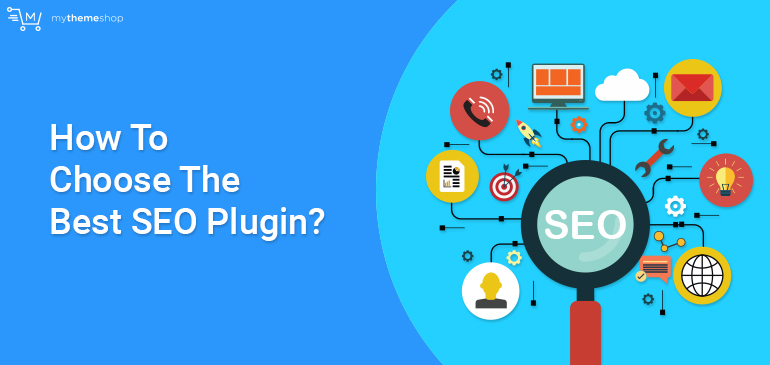 Although there are several WordPress SEO plugins available for free while others are premium plugins, not all SEO plugins deliver good results.
It can often be confusing for WordPress beginners when it comes to choosing the right SEO plugin for their site. In this article, we are going to highlight the best WordPress SEO plugins to help you make the right decision when you are choosing an SEO plugin.
But first, before we look at the different free and premium SEO plugins let's begin by outlining the important consideration you should make when choosing an SEO plugin.
SEO is categorized into two aspects- On-page SEO and Off-page; If you are hearing the term 'SEO' for the first time then this beginner's SEO guide will help you to clear your basics.
Let's look at the list of 5 best WordPress SEO plugins. If you are already using some of the plugins, you can skip and try the rest of them. But first, get to know what each plugin does and would it be beneficial for your site or not.
Best WordPress SEO Plugins
How to Choose a Good WordPress SEO Plugin
A good WordPress SEO plugin should have the following qualities:
Clean and Efficient Code – A good SEO plugin should have a clean code that does not have unnecessary CSS or JavaScript entities that would add an unnecessary load on the site. This ensures the plugin is fast and efficient and does not slow down your website. The plugin code should also be well commented for easier understanding of how every section of the code works. Clean code is the basis of a properly functioning WordPress plugin.
Multiple SEO Features – The best SEO plugin should have more than one SEO feature to help reduce the number of other SEO plugins on your site. Although there are single feature SEO plugins that only do one task like the '301 redirections', the best SEO plugins come with a host of features that make it a complete and efficient plugin since it handles multiple tasks. It is not advisable to have many plugins installed on your site since they will only increase the load time of your site.
Extensive Documentation – Plugin documentation is important since it helps users to understand how every feature of the plugin works. The documentation can be in the form of video guides or articles with illustrating images on how to install, configure, and update the plugin. The majority of the SEO plugin comes with an admin dashboard, where the configuration is done. An excellent SEO plugin should have clear instructions on how every setting or configuration is done, preferably a tooltip guide should be used to make the user understand about the working of the plugin.
Good Customer Support – A good SEO plugin should have good customer support. The free SEO plugins available in the WordPress repository come with free support in the respective plugin support forum. You should look out for the support that is offered by the plugin author on the support forum before you can decide on whether to use a given SEO plugin. You can also use the plugin support forum on the WordPress repository to understand the common problems associated with the plugin and the solutions available.
Good Reviews & Ratings – All SEO WordPress plugins receive reviews and ratings from the users, and this should be an essential guide on the value that the plugin adds to your website. For free WordPress SEO plugins, the reviews column on the plugin page is a good place to start to find out if the plugin is well supported or if it delivers value.
Regular Updates – A WordPress SEO plugin should frequently be updated to ensure it is compatible with the latest WordPress version. A plugin that is not updated for a long time can predispose your website to get hacked or can create incompatibility with the WordPress core files or other WordPress plugins. You should never compromise on the update of a plugin when you are choosing the best SEO WordPress plugin for your site. Check the changelogs of the plugin to see how regular the SEO plugin is updated and what changes have been done before.
Plugins Compatibility – WordPress SEO plugins should be highly compatible with the other WordPress plugins. This is a significant quality since incompatibility with other plugins often leads to WordPress screen of death, an error that causes your site to crash. Particularly, SEO plugins that utilize JavaScript libraries are more likely to cause these conflicts.
Best WordPress SEO Plugins
Choosing the right SEO plugin determines whether your site is going to be successful or not. There are diverse WordPress plugins that offer a broad range of SEO features but there are also some plugins that have all the necessary features for on-page SEO.
You should assess your SEO needs before making a decision on the plugin you need for your site. There are plugins that only optimize images for fast loading speed while others just create XML sitemaps. This type of single task plugins cannot be used alone to optimize a site fully.
In a quick summary let's now look at the features of each of the 5 best SEO plugins.
[1] Rank Math SEO Plugin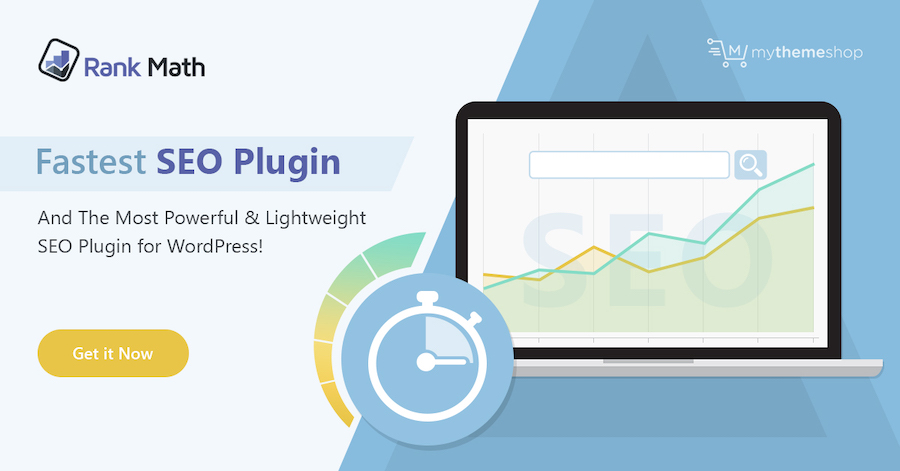 Rank Math SEO plugin for WordPress is the only plugin that does everything related to on-page SEO. It is a complete package that comes with an on-page SEO analysis tool, Google search console integration, keyword recommendations, 404 monitor, redirections module, and a sitemap module.
Rank Math comes with the functionality of at least seven different plugins. It is an all-in-one SEO tool that helps you rank easily.
It has an easy to follow Setup Wizard you can follow to get started quickly and without too much fuss.
It does on-page SEO analysis of your posts on-the-fly and gives you recommendations based on proven statistics that will help you rank higher for the focus keyword you want to rank for.
Crawl errors encountered by Google are shown within the plugin. It helps you know where errors are and how to fix them.
Rank Math lets you automatically add alt and title tags to your images. This automates the process of image SEO.
Sitemap functionality is built into the plugin.
404 Monitor and Redirections tool help you monitor and fix 404 errors.
You don't have to rely on a 3rd party plugin for Rich Snippets. It is integrated into the Rank Math plugin as well.
Automatically pings search engines so that they can come and crawl your content as soon as new content is available.
Local SEO options are included as well.
Apart from these, Rank Math also helps you change titles and meta text of your posts, pages, categories, products etc. really easily.
Related Read: How to Install and Setup Rank Math SEO PluginClick Here To Try Rank Math SEO by MyThemeShop
[2] All In One SEO Pack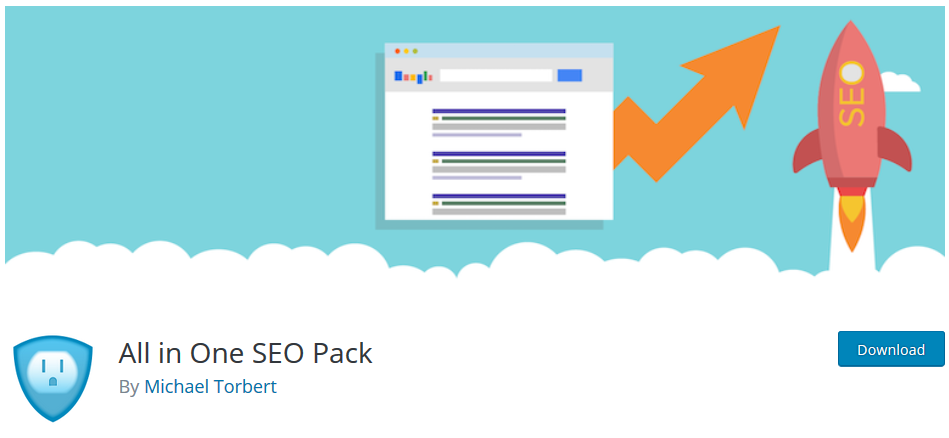 All in One SEO Pack is the second most comprehensive WordPress SEO plugin that is useful for optimizations of individual posts and pages. All in One SEO Pack is a very popular WordPress SEO plugin like Yoast SEO since it has more than 3 million downloads and comes with the following features:
You can create XML Sitemap with this plugin and submit it to Google and Bing to help improve your search rankings.
All in One SEO Pack supports Google Accelerated Mobile Pages making it an effective plugin for mobile search optimization.
This SEO plugin supports Google Analytics and works perfectly to help you track the traffic on each of your website pages.
Optimizing custom post types is also possible with All in One SEO Pack plugin.
Canonical URLs are supported.
You can create redirects from WordPress attachments to the parent posts making the attachment pages SEO compliant.
You can automatically notify Google and Bing whenever there are new changes on your site.
All in One SEO Pack comes with an inbuilt API that other plugins and themes can access to extend its functionality.
All in One SEO Pack plugin is the only free plugin that is capable of SEO integration for eCommerce sites and also supports WooCommerce.
It is compatible with PHP 7 and Nonce security is built into the plugin making it hack proof and secure for all sites.
This plugin automatically optimizes the posts, pages, and custom post types titles for search engine ranking and also automatically generates Meta tags. It also helps you avoid duplicate content penalty.
All in One SEO Pack is a good plugin for WordPress beginners since they don't have to configure any settings; it works just after installation – out-of-box solution for WordPress SEO. For advanced users, you can tweak the features to make your site more appealing to search engines.
Has a feature to override the title and the Meta description that are set automatically. You can add your own custom titles and Meta description just like in the Yoast SEO plugin.
Finally, All in One SEO Pack plugin is the second most popular free SEO plugin that has been used and rated highly on millions of sites. This plugin has a premium version that users can upgrade from the free version and receive premium support.Click Here To Try All In One SEO Pack
[3] SEO Ultimate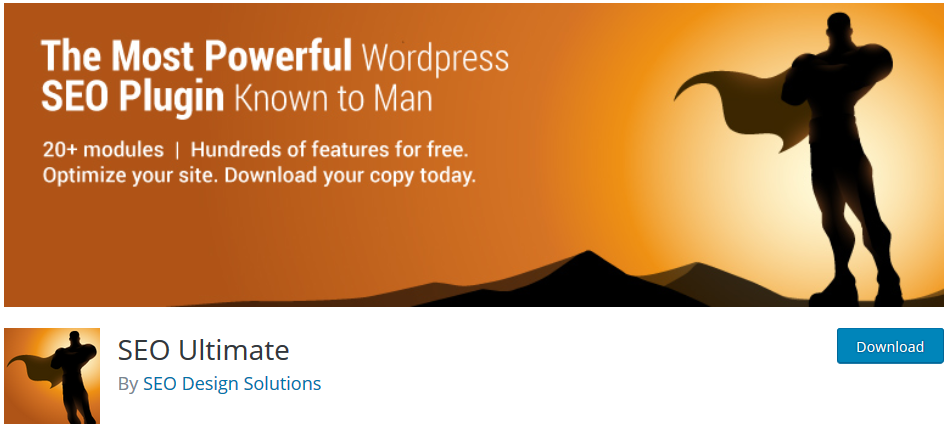 SEO ultimate is another complete WordPress SEO plugin that is free and available for download from the WordPress repository. SEO Ultimate as its name suggests seems to be a complete on-page optimization plugin that comes with tons of features.
This plugin has more than 200,000 active installs and continues to define its top position among the best WordPress SEO plugins by its rising popularity.
One notable issue with this plugin is the fact that the support is not offered in the WordPress forums so if you need support you need to upgrade to the premium version to access the dedicated email support. The premium version also has exclusive features and training tutorials on how to use the plugin. The following is a summary of the SEO features offered on SEO Ultimate:
Title tag rewriter feature allows you to edit your title posts and optimizes them for improved on-page SEO and to rank higher in the search results.
Meta Description Editor allows you to add a Meta Description to your posts, pages, categories, attachments, tags, and even the homepage. This allows you to optimize the Meta description for the potential keywords and rank higher in the search results.
Deep link Juggernaut is an awesome anchor text driven internal linking feature that allows you to create deep links between related posts. These internal links are good for SEO.
Ability to enhance the internal ranking pattern of SEO.
The open graph feature allows you to automatically create open graph data for posts, user profiles, homepages, and attachments.
Snippet creator allows you to add quality snippet code for reviews.
Author highlighter creates code to ensure the author's Google+ profile image is visible together with the post that appears in Google search results.
The 404 monitor helps to improve the experience of users and spiders visiting your site by using a redirection on "page not found" errors.
Click Here To Try SEO Ultimate
[4] The SEO Framework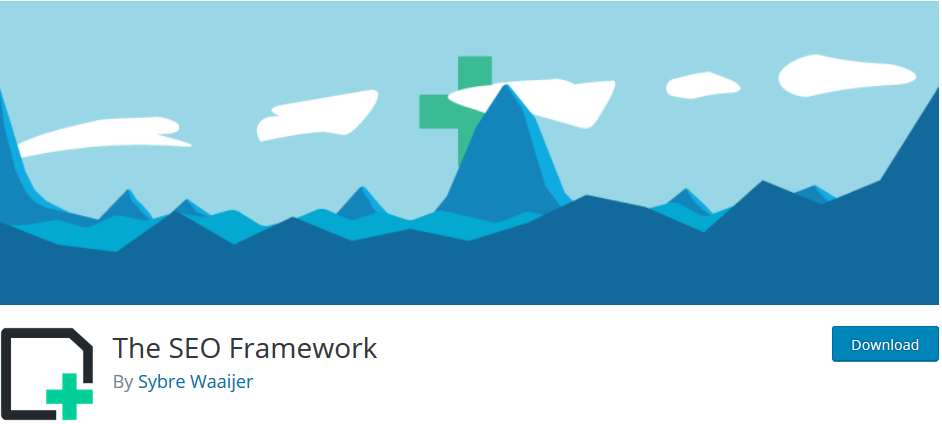 The SEO Framework is a free SEO plugin that provides automatic SEO solution that is ideal for any WordPress site. The plugin enables you to make enhanced SEO value for content on your website.
This plugin is ideal for both novice and experts looking for a reliable SEO solution. It is unbranded thus no one will be able to know the tools you have used to make your website or that of your client. The SEO plugin makes use of features found in WordPress interface as if the plugin is part of WordPress.
It does not have any advertisements that can be annoying to most users. It includes small and hidden HTML comments that can be deactivated using a filter or extension. The plugin allows users to manually set different standards for each page, post, term, and public CPT.
The code of the plugin uses flexible, object and temporary caching and can be enhanced on PHP-level. This helps to reduce the page load time of the plugin even when there are many Meta tags used. You do not require caching plugin when using this SEO plugin.
Here is a summary of the Plugin:
The Plugin supports custom post such as bbPress and WooCommerce.
It provides a beginner-friendly SEO solution.
This plugin creates a canonical URL to prevent duplicated content with full Domain Mapping, the subdomain, and HTTPS support.
It allows you to create open graph images that can automatically be resized and enhanced to match the user's requirements.
The plugin lets you adjust more than 100 site settings such as Schema.org Structured Data output options.
The WordPress plugin makes it easy for your pages to be shared in an attractive way through social sites such as Facebook and Twitter.
The plugin is preconfigured to provide an ideal starting point for a range of websites.
It lets you adjust SEO using global options.
This plugin is designed to help avoid canonical errors with Multisite Domain Mapping, pages, categories, and subdomains.
It prevents 404 pages and empty classifications from being indexed despite them not sending a 404 response.
You can automatically notify Google, Bing, and Yandex on your website updates by enabling sitemaps.
You can disable the small and hidden HTML comments using a filter or extension.
The WordPress plugin allows users to manually set different standards for each page, post, term, and public CPT.
It is unbranded thus no one will be able to know the tools you have used to make your website or that of your client.
The plugin does not have any advertisements.
Click Here To Try The SEO Framework
[5] WordPress SEO by Yoast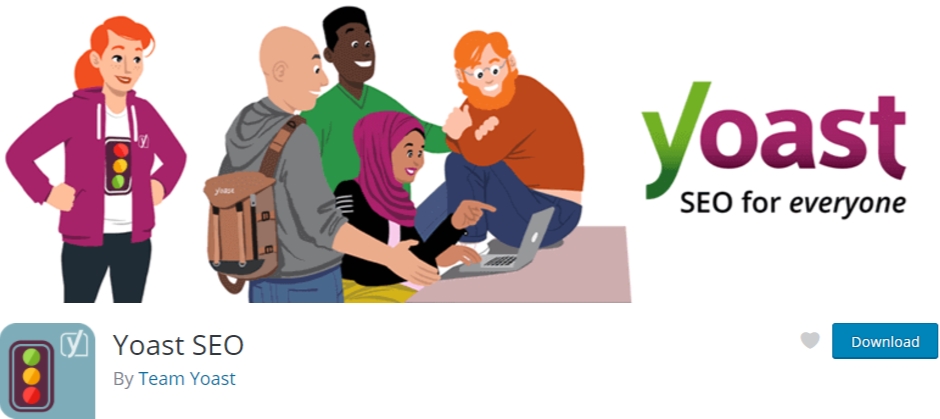 WordPress SEO by Yoast is by far the most popular WordPress SEO plugin that is used by millions of webmasters for the on-page optimization of posts and pages on their WordPress websites. Yoast is popular because it allows you to set your preferred page titles, sitemap, URL and even the Meta description.
Among the powerful features of Yoast SEO is the ability to create a sitemap and link up your site with Google Webmaster console for verification.
You can also link up your site to Bing Webmaster console using Yoast SEO plugin.
This plugin continues to lead as the best WordPress SEO plugin, now there are more than 3 million downloads of the free version.
Yoast SEO plugin also offers users complete SEO page analysis and scores the page based on the focus keyword.
You can easily tell if the page is well optimized or not based on the color of the SEO indicators.
Yoast SEO plugin is free and can be downloaded from the WordPress repository but there is a premium version available on the official Yoast website.
The premium version allows you to add more keywords to the optimization and optimize your posts and pages for multiple keywords.
Yoast SEO also has social media integration that helps optimize content for social media sharing.
It is also compatible with WordPress multisite making it the best WordPress SEO plugin for multisite.
Yoast SEO is the most complete SEO plugin and it's available for free.